Pediatric Therapy Center of Northwest Florida offers the following services for children in clinic environments, child care centers, homes, and schools in Okaloosa, Santa Rosa and Escambia counties.
---
Speech Therapy
Speech and language therapy helps children and adolescents with receptive and expressive language development, articulation/speech production, social communication, auditory processing, voice and fluency challenges. Click here to learn more about Speech Therapy.
---
Feeding Therapy
Feeding Therapy addresses feeding difficulties due to oral-motor, swallowing and/or sensory processing difficulties related to interacting with and consuming foods. Click here to learn more about Feeding Therapy.
---
Physical Therapy
Pediatric physical therapy promotes children's participation in mobility, play and other activities at home, school and in the community. Click here to learn more about Physical Therapy.
---
Occupational Therapy
Occupational therapists work with children of all ages who need specialized assistance to lead independent and productive lives due to physical, developmental, or social impairments. They evaluate a child's strengths and weaknesses in areas of critical development and design interventions to improve skills needed for participation in daily activities. Click here to learn more about Occupational Therapy.
---
School-Based Therapy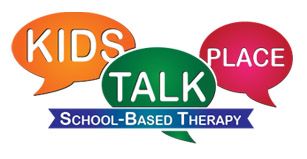 We provide school-based therapy through our parent company, Kids Talk Place, LLC. At Kids Talk Place, our mission is to provide comprehensive therapy services in an integrated educational environment, promoting skills that allow students to succeed in everyday situations.
Click here to visit our Kids Talk Place website: kidstalkplace.com